BEN TOUSLEY and SUE KRANZ
Songs with Heart and Soul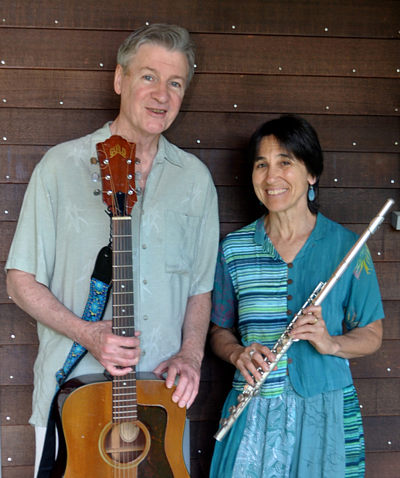 Sue Kranz and Ben Tousley have been bringing their uplifting voices and sweet harmonies to East Coast audiences for the past 25 years. With flute and guitar, and  original songs and covers, this lively and engaging duo offers heartfelt ballads, soulful love songs, incisive social commentary and a delightful sampling of songs from various traditions including Latino, Irish and Jewish. Their 2012 album, "Take Heart," is  available for purchase.
ABOUT SUE KRANZ
Sue Kranz has been much in demand as a vocalist and instrumentalist in Boston and western MA. A gifted singer-songwriter, she has released three recordings
of original songs and covers and has often appeared with the women's singing group Constellations. A world traveler who has collaborated musically from Peru
to Nepal, Kranz has likewise brought her creative gifts to her classroom as an elementary school teacher for many years in Cambridge and western MA.
"Ben Tousley and Sue Kranz entrance folk fans with their rich harmonies and gentle spirits."
— The Boston Globe

"Rarely does one find two individual singer/songwriters working so well together, as do Ben and Sue. Their harmonies are 'nirvanic' and their guitars and flute bring the audience to a place of utter well-being. Their topical songs are spiritually uplifting, based in the earth and the power of love."
Diane Crowe, Echo Lake Coffeehouse

"In these tumultuous times, music that stirs us is a key part of anyone's spiritual First Aid Kit. Sue and Ben offer songs that nurture the soul and renew the spirit. An evening of their music is a powerful massage for the heart."
–Rob Okun, VOICE MALE Magazine
Bring Sue and Ben to your coffeehouse, fundraiser, house concert or family/community celebration!
For bookings and information, contact:
Ben Tousley: 413-475-3592
Sue Kranz: suerkranz@gmail.com