(If you don't have Adobe Flash please see CD Baby links below)




TAKE HEART   [Click here to listen to/purchase on CD Baby]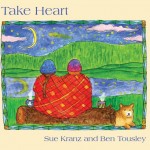 Ben Tousley and Sue Kranz' debut album Take Heart features originals by Ben and Sue along with classic covers such as "You Were on My Mind" (Ian and Sylvia), "Kathy's Song" (Paul Simon), "You Can Close Your Eyes" (James Taylor) and "Field Behind the Plow" (Stan Rogers).  Ben and Sue's soaring harmonies, guitar and flute are graced with the piano of Janet Hood, Kevin Barry on electric guitar and Jim Henry on dobro and mandolin, among others.  These songs of the heart and soul touch upon our struggles and our overcomings, personal and collective, including songs in Spanish, Hebrew and Irish traditional.
TAKE MY HAND   [Click here to listen to/purchase on CD Baby]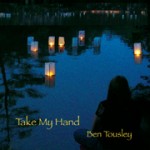 Ben's 2006 CD Take My Hand — original and traditional songs that draw on folk, rock/gospel and Irish roots – stories of courage and struggle in hard times and the spirit of peace both near and far – featuring Janet Hood (accompanist for Holly Near) on keyboards, fiddle player Stuart Schulman (formerly with Jonathan Edwards), lead guitarist Kevin Barry (accompanist for Mary Chapin Carpenter), renowned drummer Stanley Swann and a host of great musicians and singers from the Boston area. The Boston Globe writes:  "Tousley is that rare political singer who understands that kindness is a more convincing tool than scorn…Where others rail about evildoers and liars, he makes heroes of truth-tellers, healers and teachers."
OPEN THE GATES   [Click here to listen to/purchase on CD Baby]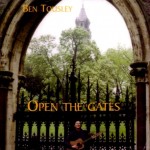 Ben's 1998 release Open The Gates brings together some of his best loved songs such as "Song for Barbara" (Barbara McInnis), "Oh My Son, Come to Me," and "Brophy" with other originals that have become favorites including three songs inspired by cancer recovery:  "Under the Light," "Every Morning," and "Here's to the Milk of Kindness."  Ben's renditions of "City of New Orleans" (Steve Goodman) and "Beggars to God" (Bob Franke) are spirited gems.  Ben is joined on the album by some of the Boston area's finest musicians.
LOOKIN' FOR A RAINBOW   [Click here to listen to/purchase on CD Baby]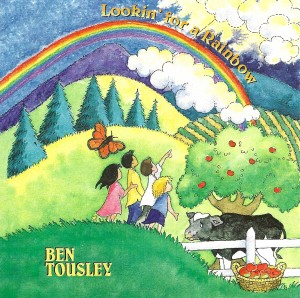 Ben's 1997 beloved children's album includes odes to Emily the Cow and Johnny Appleseed and the title song which has become a children's music favorite as well as classics such as Bill Staines' "Place in the Choir" and "This Little Light."  Recorded live with banjo, fiddle, bass, piano, flute and mandolin and enjoyed by all ages!
ALSO AVAILABLE ON CASSETTE BY MAIL ORDER:
Standing There With You (1987)
I'll Take You Home  (1989)
I've Come Back Down  (1992)
"Lookin' for a Rainbow  (1997)
"Open the Gates"  (1998)
Contact ben@bentousley.com to order cassettes